A Few Words About Us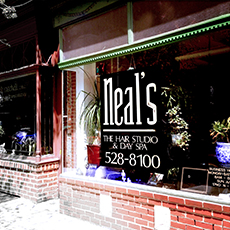 In October 1984, Neal's The Hair Studio began renting a small space in the Sutton Place Apartments. The focus then was on hair services, but the goal was always to operate a full-service salon and day spa catering to the diverse needs of all people.
Neal and partner Joe spent six years at the Sutton Place location honing their management skills while keeping an eye open for real estate in the surrounding Bolton Hill/Mount Vernon communities.
It was fast becoming clear that in order to realize their dream of operating a full service salon and day spa, they would indeed have to move to a larger space. Opportunity came in the form of two small buildings in Mount Vernon, which were jointly connected by a courtyard. In October in 1990 the doors opened for business at 856 Park Avenue.
Today, Neal's The Hair Studio & Day Spa is an eclectic family of highly trained and creative hair stylists, estheticians, massage therapists, makeup artists, and nail technicians. We are proud to be recognized by the local media, but more importantly our peers in the hair and spa industry, as one of the city's best salons.
In the future we hope to grow and be able to provide more services for our clients' ever-changing needs.
We look forward to you visiting us. Thank you.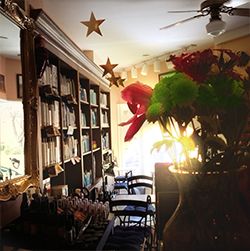 OUR MISSION
We at Neal's The Hair Studio & Day Spa are an innovative team, striving to meet your need in a positive, creative, professional salon atmosphere. It is our mission at Neal's Hair Studio & Day Spa to provide our clients with the highest degree of customer service in a professional and unique setting. We are committed to performing our crafts and to expanding our knowledge of the latest techniques available.
We continually search the industry market place for the newest technology and the finest in hair care, skin care, and nail care products in order to provide our clients with the utmost in the beauty care experience
OUR VISION
At Neal's The Hair Studio & Day Spa our vision is to be the premier salon & spa, and employer of choice in the industry, by giving back to our community, providing our guests with superior service, a highly educated staff, and the highest quality products.
OUR MOTTO
We are The Hair Studio and Day Spa where you can have your "hair" and "makeup" done without doing your "hair" and "makeup" before coming in.
Reviews for Neal's
"This is the first time I've been to this salon, although I've known about it for years. It is truly a fun place to get your hair done, and the entire staff had me and my boyfriend in stitches the entire time we were there." Lola W. Baltimore, MD
"In my opinion, the best(and most fun) salon in Baltimore. They do an awesome job, and Neal makes the best christmas CDs ever." Victoria L. Baltimore, MD
"I had an awesome experience at Neal's and with Neal himself. I had bought a groupon, mostly because it was so conveniently located to my home. And since I was using a groupon I was expecting to receive a middle of the road haircut and average customer service. I was so pleasantly surprised by the fun and caring service I received. My appointment was with Neal and not only did he provide fun banter, but also gave me a tour so I could see all of the other services provided. And after giving me the best haircut I've ever received, he gave me real life tips on how to style my hair, fully knowing and accepting that I was styling-challenged. Can't wait to go back!" Victoria L. Baltimore, MD
Read More